| | |
| --- | --- |
| Brand Name | Variable |
| Place of origin | Tabriz, Iran |
| Payment and shipping | FOB, EXW, T/T |
| Certification | ISO 9001-2015 |
| Packaging | Wooden Crates with Iron support, Bulk (Racks) |
| Color | Clear |
| Thickness | 5mm |
| Price | Negotiable |
Wired Float Glass Applications: ( Description & Applications )
Wired float glass is a type of glass in which a wired mesh is embedded during the production of float glass. There is no difference in its impact resistance in comparison to normal glass, however, the iron mesh inside the wired float glass keeps the pieces of glass together. Architects use this type of product when there is need for fire resistance glass.
Wired glass keeps the shards of glass together when there is impact. Therefore, it is being used in elevator doors or windows.
Wired glass has fire-resistance properties. Hence, architects use it when EHS protocols must be meet.
Wired glazing are being used for architectural purposes.
Packaging of Wired Glass:
As you know, packaging plays a vital role in safe shipping of glass products. Hence, our suppliers are using advanced technology and experienced staff to provide you with highest security wired float glass packaging.
We can provide 3 types of packaging based on freight type. For land transportation, we suggest you use racks without containers by which the prices are feasible. Nevertheless, box packaging & containers are always available. below you can find two images of available wholesale of wired glass packaging: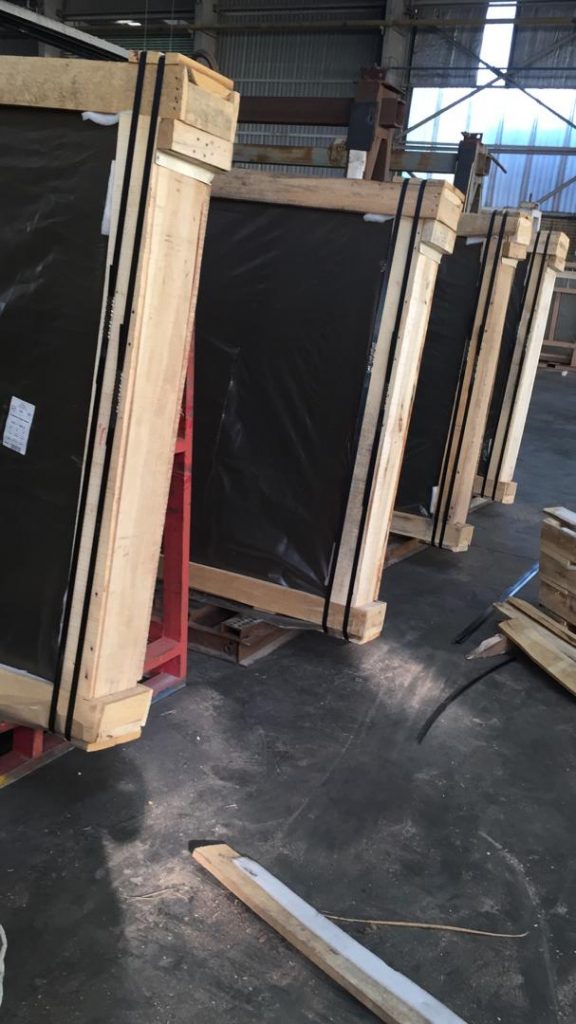 Our iron supports are being made in two kinds:
Light-weight iron supports
Heavy-weight iron supports
Each of above mentioned iron supports has its own application. For near destinations and normal road conditions we suggest you use light-weight rack supports because they are monetary cheaper. However, for longer destinations and harsh road environments, it is better that you go on with heavy-weight iron supports due to its resistance upon impacts and deformation. Please keep in mind that choosing of any, will have a huge impact on safely delivering your products to your desired destination.
Another type of wired float glass packaging is delivering in boxes. We provide you with high quality Russian wooden crates. We also use interlayers between glass sheets to keep them safe & sound till processing installation points.
AidinGlass
Nearest glass supplier to CIS, Turkey, & Europe in Iran
Why does buying glass from Iran add to the sustainability of your business?
We try to explain in this short video:
Shipping Information of Wired Glass Supply
Due to our geographical location, both land transportation and sea freight is available. Shipping process can most of times be of headache. Particularly if you are a foreigner and you do not know any one or any shipping company overseas. Hence, we have partnered up with worlds most reliable shipping lines to provide you with excellent services of wired float glass delivery. We can provide you shipping from factory to your desired destination with highly reasonable pricing. However, the price is not everything specially when it comes to glass.
Shipping, besides having reasonable pricing, must be safe and must be handled by people who are expert at such processes. There are a thousand things that can go wrong including booking wrong container type to overloading products into specific container types. Clearance & on-boarding procedures must be handled carefully to prevent any further problems.
Let us handle all the shipping and you sit tight and have a cup of tasty coffee.
Order Wired Glass Now:
As mentioned before, we are ready to provide you with high-quality wired glass product from Iranian manufacturers and suppliers. Our supplier's product's quality is verified by ISO-9001 accreditation. Use one of below methods to contact us:
Use the form below to contact us:
Send us an email through: sales@aidinglass.com
Call us directly or send us a WhatsApp message on: (+98) 930 518 0464
Fill our inquiry form wait for our customer service to contact with you as soon as possible.
Use the form below to contact us:
[/vc_column_text][/vc_column][/vc_row]